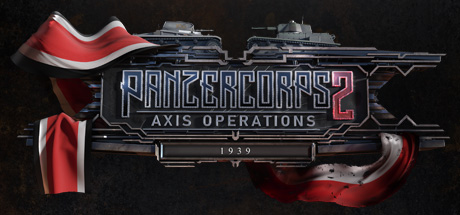 Axis Operations 1939 is the latest add-on for Panzer Corps 2 which I reviewed earlier this year. Much like the previous game, Panzer Corps 2 shipped with a campaign covering all the headline battles for the German army in WW2, but now it is receiving a series of DLC that take a deeper dive into the war, and visit many smaller and less well known battles in a very lengthy grand campaign. The first DLC featured the Spanish Civil War, in many ways the warm up to WW2 in Europe where the various powers tried out new tactics and equipment. If you have already played through that campaign, you can carry your core force and heroes forward into 1939, or start fresh with a balanced force and several heroes to assign as you please.
Over the course of 15 scenarios you'll visit some of the less gamed battles of the war. While in real life many of these were small scale affairs compared to the later battles of the war, Panzer Corps 2 makes up for this by taking the quirks of the historical situation and offering up unique objectives for each scenario. In most cases you'll be offered up a straight forward objective that isn't too difficult to complete, but, critically, you'll also have at least a couple of bonus objectives that will appear tantalizingly within your grasp. Accomplishing one of those objectives will require only a bit more skill than normal, but taking on both at the same time will often demand some real strategy and perhaps even a few separate runs at the scenario. While you can finish the campaign without doing any of these, the game is far more fun, and more challenging, when you attempt them. In almost every scenario I found myself embarrassingly overstretched on my first attempt, thinking I had things in the bag just before an enemy counter-attack cut off my lead units and ravaged them. The rewards for going the extra mile are Commendation Points, which you'll be able to spend at various junctions to get special units and heroes.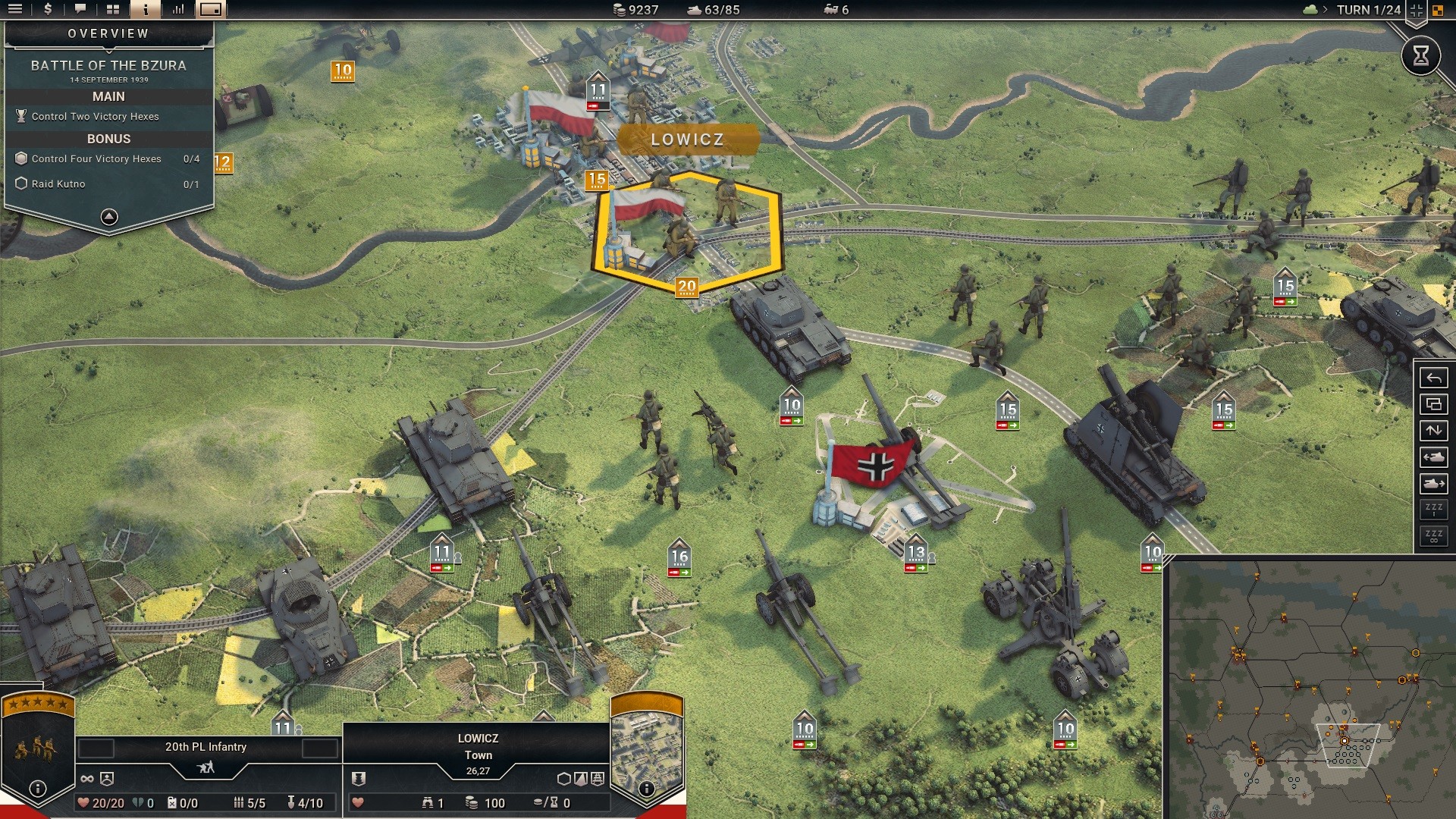 While some of the bonus objectives merely involve taking the primary objective and pushing deeper into enemy territory, others are very unique and fresh. For example, early on you'll invade Czechoslovakia. While you can just roll in and crush all resistance, the ideal way to win the battle is to occupy points all over the map without destroying a single enemy unit. You'll attack and push them back, but never hit them so hard that you wipe one out. As you can imagine, it becomes difficult to cut deep into enemy territory when you keep leaving viable enemy units in your rear. In a later mission fighting the French, you're tasked with capture a huge swath of objectives across the map, but ever so tempting is a heavily fortified city right next to your starting point, that you merely need to raid (simply touch the objective marker once) to complete a bonus objective. It seems so easy, it's right there, you can drive to the objective location on Turn 1, and yet you'll lose half of your force trying to take it directly, or burn through most of your limited turns attempting to encircle and siege the place.
Throughout the campaign you'll see Czechoslovakia, France, Poland, Finland, and Denmark, offering quite a variety of locales and enemy forces. Your own units will of course not evolve too much over this time period, but you will get the chance to capture various enemy units and add them to your core force if you so choose. You'll also see your units grow in experience, awards which add perks to a unit, and gain more heroes. These heroes are used in Panzer Corps 2 to further customize a unit with special perks, which bend the normal rules of the game. Each unit can have up to three of these guys attached, letting you create some real powerhouses with the right synergies.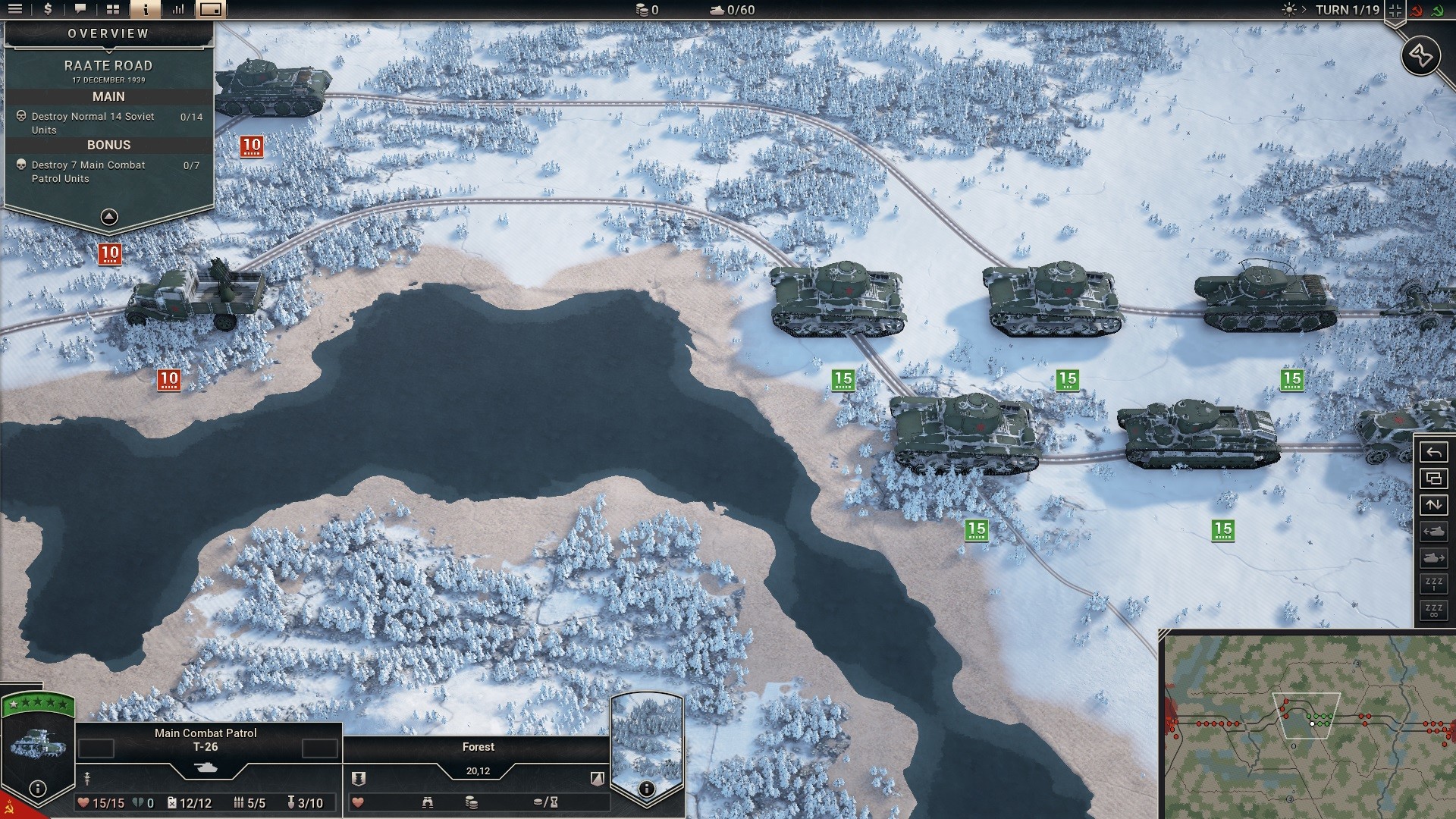 At the end of this campaign you'll be edging over into 1940. No doubt we will be seeing Axis Operations 1940 in the coming months, where you can take your forces on to invade the rest of Europe. As I know a lot less about this period of the war than the latter portions, I'm very interested in seeing what locations and battles will be featured.
At just $10, Axis Operations 1939 is certainly worth your money if you are looking for some more Panzer Corps 2 action. While it doesn't break new ground, it offers more of the tried and true, but highly polished action of the core game.
Axis Operations 1939 is available directly from Slitherine or your gaming store of choice.
- Joe Beard